TRANFORMING BLAME INTO MOURNING:
Free Process Work Webinar Dec. 15, 2020
Sometimes blame can be the hardest thing to transform. Unfortunately, every time we touch into blame we shift our nervous systems into sympathetic activation, which is not good for our mood or our immune systems. 
Last year I taught a long class on forgiveness so that I could focus on a stubborn blame that had lasted twenty years and was still showing up in my dreams.
This free process is a distillation of what I (Sarah Peyton) discovered I was protecting myself against by holding onto that old blame.
Please join me online December 15th, 7 PM PST (recording available if you can't make it live!) for a 90 minute series of demos of this process so that you can take the work home with you to use to clear your own nervous system of blame. 
Do you have years-old resentments and anger toward others that you've never been able to let go? 
Are you astonished at the staying power of resentment, and how impossible forgiveness sometimes feels?
Would you like to learn ways to outmaneuver the blame and trauma "hooks" that lead us to hold grudges, despite our best efforts?
Do you want to practice how to uncover what's really underneath the blame, so you can move on, release and forgive?
Please consider joining Sarah Peyton online for a free process work exploration, to discover new neurobiology-informed process work that can help us transform blame.
This webinar is an opportunity to witness and hold space for healing process work, in which Sarah will work with 1-3 volunteers, giving you tools to use to clear your own nervous system of blame. 
Why is Blame So Hard to Release?
Human brains have two hemispheres: the left and the right, each side with a wildly different neural structure and a different way of looking at the world.
The left hemisphere LOVES to know things. To be certain. To perform analytical sequential processing. To get things "under control" externally and internally by ordering the world in hierarchies, binaries, and especially by assigning BLAME.
Conversely, the right hemisphere loves complexity, nuance, anomaly. The right hemisphere can sustain rising levels of fear and uncertainty over time in order to expand into a more coherent, holistic worldview where we see both/and instead of either/or.
Although the left hemisphere does not see and understand what the right hemisphere understands, the left is expert at pretending that it does, at finding quite plausible, but bogus, explanations for the evidence that does not fit its version of events.
When brains have not been held with resonance, accompaniment and secure attachment, the right hemisphere becomes a jungle of fear, alarm, and activation and we cannot rely on its capacity for mourning and feeling our hurt. 
Unintegrated, unheld right hemispheres cannot survive the descent into chaos of trauma and hurt, and so we shift left into blame.
Essentially: blame is a dissociative strategy we use to feel certainty and inner stability, of being right, and of being "wronged" by another. Because without that, we would have to encounter the chaos of feeling our own grief and hurt  – the mourning underneath.
Using process work we can slowly uncover what we are trying to protect ourselves from, by holding onto that old blame so hard, by integrating our right hemispheres over time.
I hope to see you there to explore this powerful blame transformation process.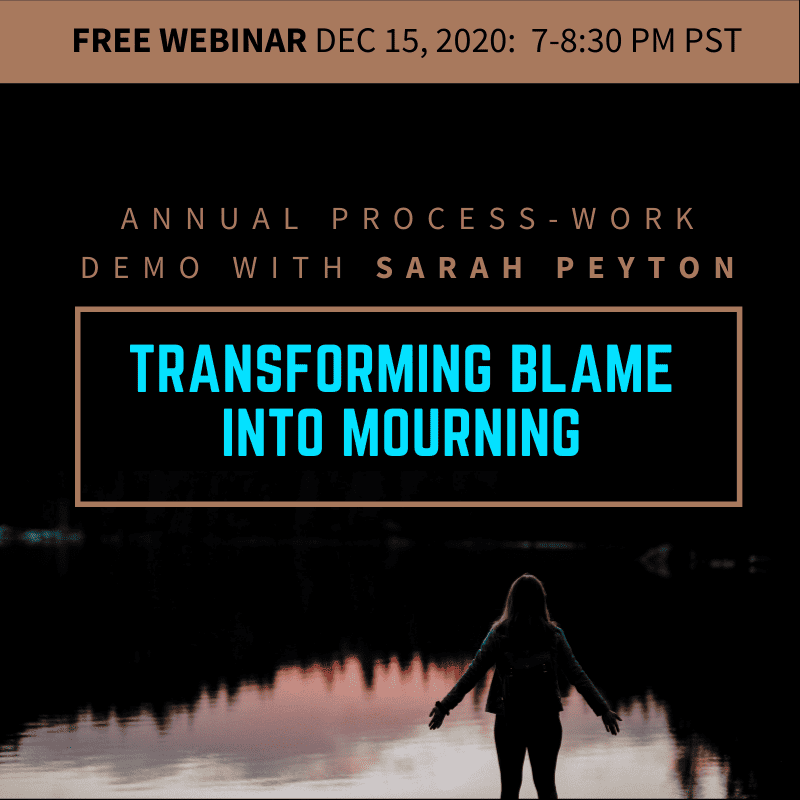 I have worked with Sarah both in workshop settings and one-to-one and have found her presence and support deeply healing, inspiring, reassuring and transformational.
Her gentle empathic style of communicating combined with her wisdom and understanding of inter personal neurobiology has had a great impact on my own healing journey and wider understanding of how to overcome trauma.
I can't recommend her book, retreats, online courses and in-person work enough.
Your Resonant Self is a brilliant book that brings together brain research with resonant communication technology.
From healing shame and self hate to overcoming phobias and addictions, this book has it all, and from my own journey with healing and growth, I know the tools in this book work.
I celebrate that Sarah wrote this remarkable book and hope it reaches around the world to create healing for all who suffer.
Sarah Peyton' guided meditations go beyond the usual feel-good meditations of affirmation – they actually change our brain and our feelings about ourselves. 
Because they are based on the findings of neuroscience and how the brain behaves, we experience the creation of self warmth toward ourselves, call back our dissociated self and learn to hold our pain with tenderness.
I recommend this superb book to all my clients, trainees and colleagues.